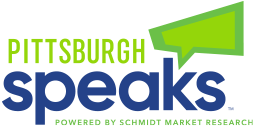 Pittsburgh Speaks is our proprietary online research community. Pittsburgh Speaks leverages cutting edge technology to provide you with high quality recruitment solutions, as well as options for online qualitative and quantitative research using Pittsburgh-area residents.
We partner with the best qualitative facilities in the region and provide full recruiting and in-person research solutions. Pittsburgh Speaks – recruiting for researchers by researchers!
Schmidt Market Research looks forward to partnering with you for your market research projects.

To request a bid, please complete the following fields: